The book Enterprise Architecture for Integration by Clive Finkelstein presents a top-down approach to define an information system architecture at the enterprise level. It begins with a short presentation of the Zachman Framework that is used as the basic tool to analyze enterprise architecture.
A first part is then devoted to present approaches used to express the strategy. A second part describes the techniques used to translate the strategic goals at the information system level with data and process modelling.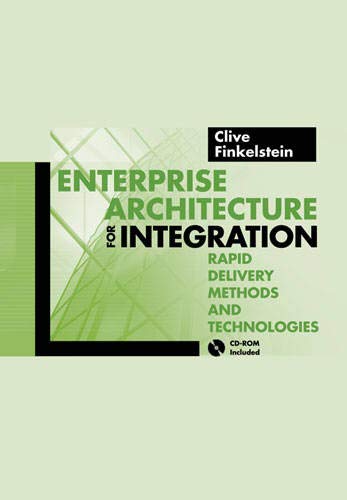 Finally, a third part discusses current technologies and products involved to integrate applications and deploy the enterprise architecture. A CD-ROM is provided with the book. It contains problems and solutions to apply the concepts presented in the book, products information and some modelling tools.
Clive Finkelstein is a founding father of Information Engineering and he continues to apply its principles. The goal is to help large organizations to manage their complex information systems. Being strategic doesn't imply always multi-years projects. The book states that the enterprise architecture portfolio plan for a large company can be created in 8-12 weeks. It also recommends 2 days workshops to define sub-systems that have a 3 months delivery objective. Many examples are provided in the book.
This book is recommended for people that are managing applications or portfolios of applications at the enterprise level. It also provides valuable knowledge for business analysts/architects with a detailed examination of the data and process modelling activities and the definition of coherent and autonomous sub-systems. The book has close to 500 pages of dense material, but each chapter could be used separately according to your needs.
Reference: Enterprise Architecture for Integration: Rapid Delivery Methods and Technologies, Clive Finkelstein, Artech House